Loden Sports is excited to announce the Outlier Sessions to debut this coming December on the lodeN Discord. Simply put, the Outlier Sessions will be structured like a live podcast. We'll interview our guests and then open up the floor for live listeners to participate.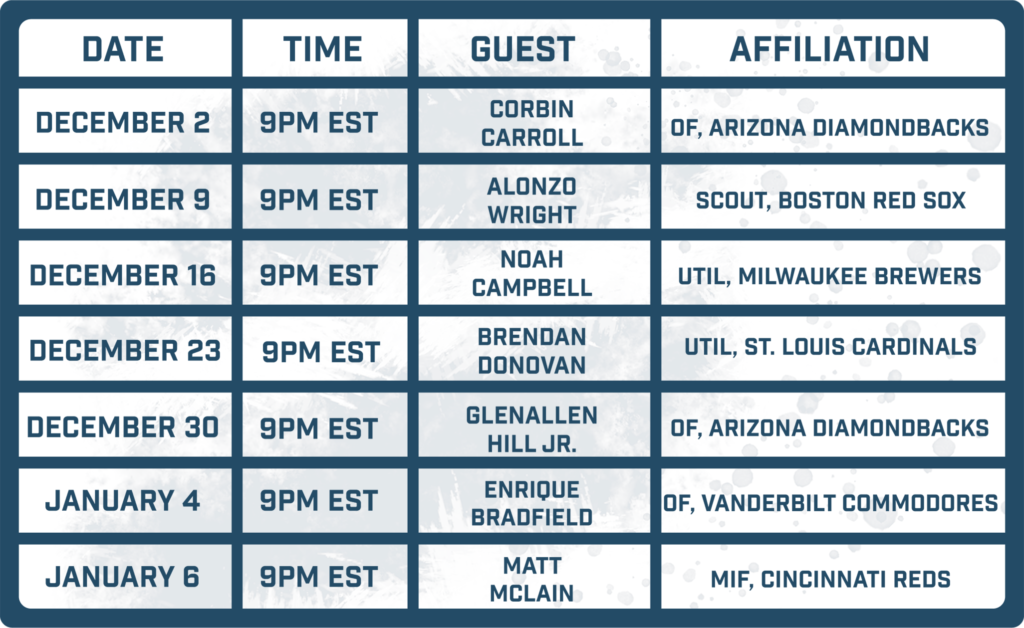 It's our goal to bring young players, coaches, parents, and aspiring students closer to upcoming stars and industry professionals.
The sessions will serve as an opportunity to learn about personal development, ask questions about the process, and most importantly, learn about the human beings, their interests, and their journeys.
The Loden Outlier Sessions will start on Thursday, December 2nd at 9pm EST with top-25 MLB prospect and 2019 Arizona Diamondbacks first round pick, Corbin Carroll. We will have at least one new guest each week for the five weeks following December 2nd for a total of 7 guests. A list of our guests below:
Thursday, December 2: Corbin Carroll
Corbin Carroll was selected 16th overall (Arizona) in the 2019 MLB Draft out of Seattle's Lakeside High School. He was an early commit to UCLA in high school and went on to play for a loaded Team USA 18U National Team in 2018 alongside Bobby Witt Jr., Riley Greene, CJ Abrams, Dylan Crews, Anthony Volpe, and Jack Leiter. Additionally, Carroll was a participant in the majority of the marquee showcase and All-American events during his junior summer.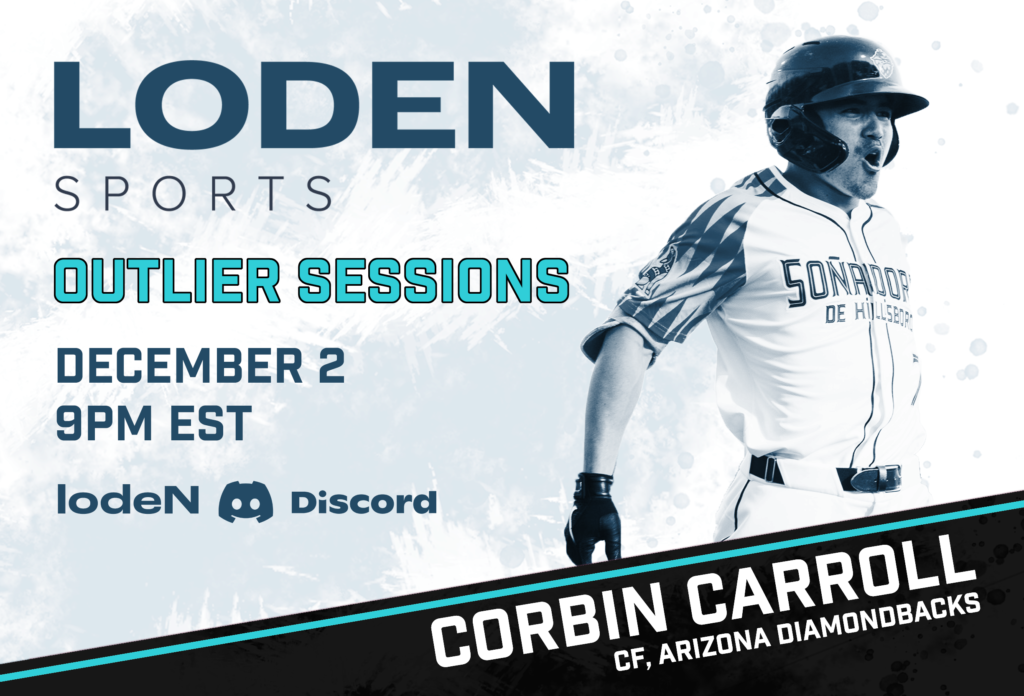 Since 2019, Carroll has become one of the top prospects in the game. After a strong debut in 2019, he impressed at the Diamondbacks alternate site in 2020 and got off to a scorching start in Hi-A this year before a shoulder injury ended his season much too soon. Carroll's athleticism allows him the ability to impact the game with his glove, his bat, and his legs. He is viewed as a true 5-tool prospect and Arizona's center fielder of the future.
Corbin has spent the 2021 season rehabbing in Arizona, taking in Diamondbacks games, and staying busy as a full-time student at Arizona State (if you ask nicely, he may share some gems from his Philosophy of Happiness class).
Twitter: @corbin.carroll // Instagram: @corbin.carroll
Thursday, December 9: Alonzo Wright
Alonzo Wright is entering his second season as an area scout for the Boston Red Sox in the upper Midwest. Zo is responsible for scouting high school and collegiate players in Illinois, Indiana, Missouri, Iowa, Minnesota, and Wisconsin. In the 2021 MLB Draft, Zo did the leg work on the selections of Matt Litwicki (Round 10, Indiana), Niko Kavadas (Round 11, Notre Dame), and Tyler Uberstine (Round 19, Northwestern).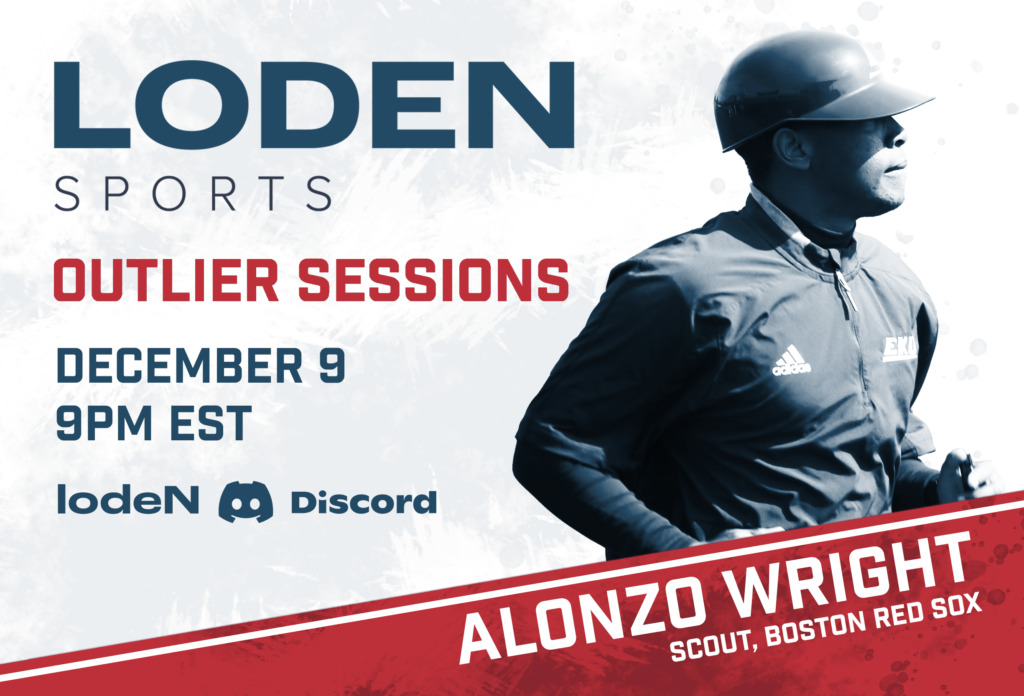 Prior to joining the Red Sox as an area scout in the fall of 2020, Zo coached at Tulane, Eastern Kentucky, Florida State College at Jacksonville (Florida), Trinity Christian Academy in Jacksonville (Florida), and for the Orlando Scorpions travel ball organization. During his time in the high school coaching ranks, he served as an associate scout for the San Diego Padres. While at Trinity Christian, Zo coached 5 players who are currently in professional baseball, including the 5th pick in the 2020 MLB Draft, Austin Martin.
Whatever you do, don't get him started on Portillo's …
Twitter: @AlonzoCWright
Thursday, December 16: Noah Campbell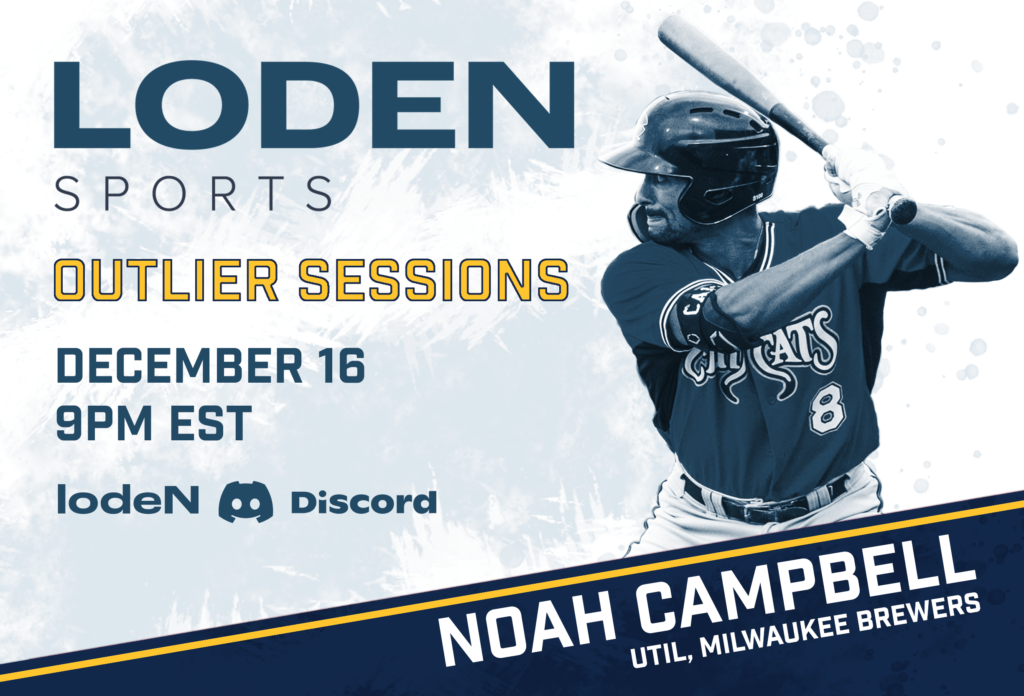 Noah's baseball journey has included a nod on the USA Baseball 15U National Team back in 2014, a three-year tenure playing SEC baseball with the South Carolina, and two summers on Cape Cod playing for the Yarmouth-Dennis Red Sox. After a Covid-19 shortened collegiate baseball season, Noah went undrafted in the 5-round 2020 MLB Draft. Shortly thereafter, he signed as a free agent with the Milwaukee Brewers and negotiated tuition for further schooling. Beyond baseball, Noah aspires to be an orthopaedic surgeon.
Thursday, December 23: Brendan Donovan
Brendan Donovan is wrapping up his marathon season in November in his fifth uniform of the year with the Glendale Desert Dogs of the prestigious Arizona Fall League. Brendan saw action in 25 games for the Peoria Chiefs (High-A) before earning a promotion to AA Springfield where he played 50 games and earned another promotion to the Memphis Redbirds where he saw action in 33 games through the end of AAA season in September. Brendan was selected to the postseason taxi squad for the St. Louis Cardinals wildcard game in Los Angeles against the Dodgers. In total, Brendan batted .304 with an .854 OPS across three levels in 2021.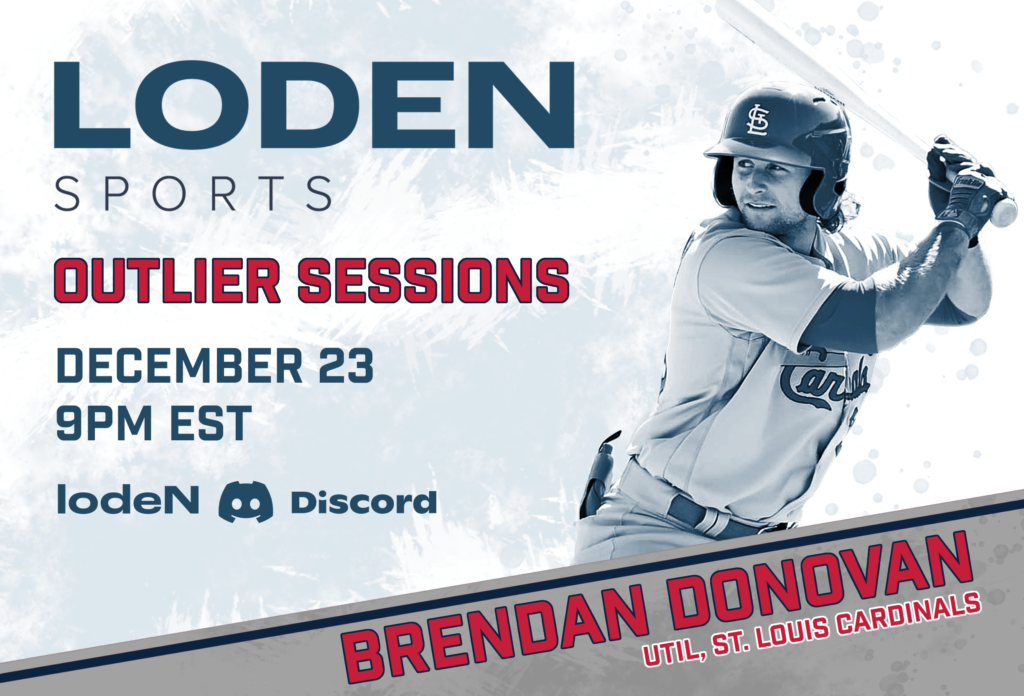 Drafted in the 7th round of the 2018 draft out of the University of South Alabama, Brendan openly embraces the grinder mentality. As a competitor he is all bite and no bark. Bright and open to new ideas, we'll get Brendan to talk a little bit about some of the ways he utilizes emerging technologies in the offseason and in-season to help maximize his ceiling.
Twitter: @bdonovan_42 // Instagram: @b_donnie11
Thursday, January 2: Glenallen Hill Jr.
Glenallen Hill Jr. (GJ) just wrapped up his third professional season in which he spent the duration with the Visalia Rawhide, the Low-A affiliate of the Arizona Diamondbacks. GJ was a 4th round pick in the 2019 MLB Draft and opted for pro ball over his commitment to Arizona State. Known for his wheels, GJ was successful on 31 of 34 stolen base attempts this year.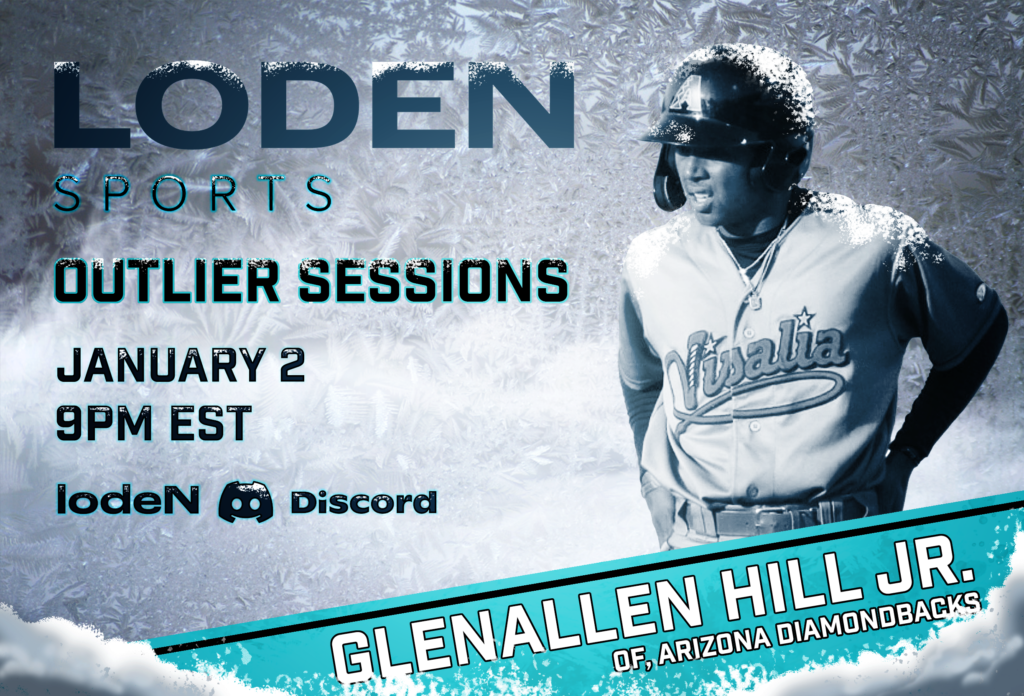 Originally hailing from Santa Cruz, California (just south of the Bay area), GJ grew up with baseball in the bloodlines. His dad played in the big leagues for 13 years and was a member of the 2000 New York Yankees that defeated the New York Mets in the World Series.
GJ keeps a lowkey profile, enjoys skateboarding, and is the OG SpongeBob SquarePants historian. Thoughtful and intuitive, GJ will look to share how he keeps a level-head, the importance of friends and family, and being your authentic self in the high-pressure environment of pro ball.
Instagram: @gj11hill
Tuesday, January 4: Enrique Bradfield
Enrique is preparing for his sophomore year at Vanderbilt where he'll look to build on a stellar freshman campaign in which he batted .336, was the only player to start all 67 games, and led the nation in stolen bases (47). He made the transition from high school to college seamlessly and was named the SEC Freshman of the Year and a consensus All-American.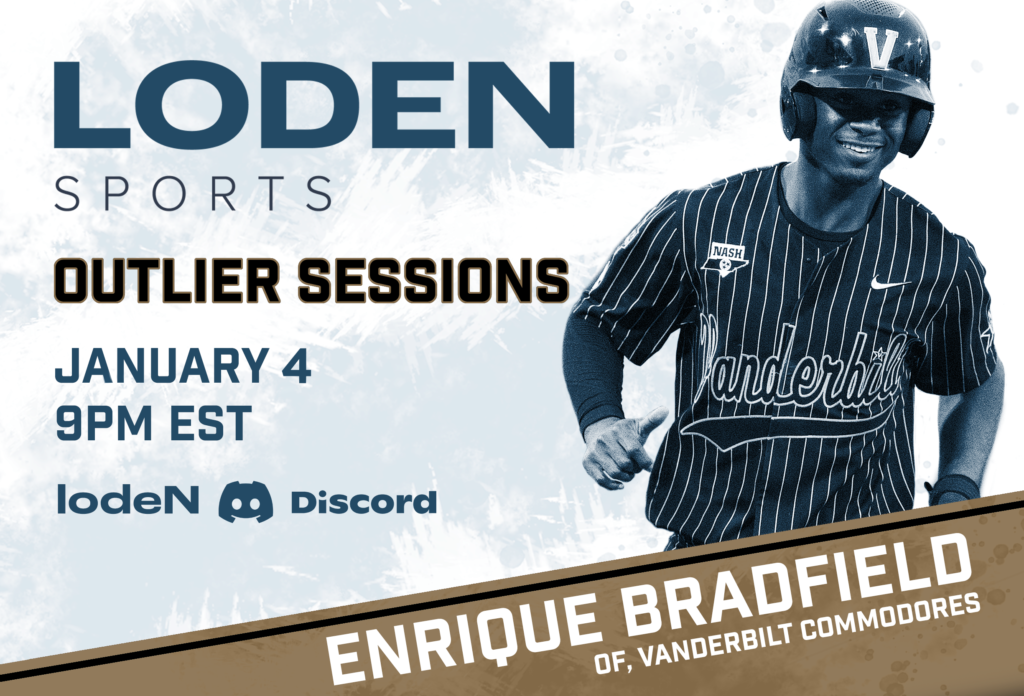 Thursday, January 6: Matt McLain
Matt just finished his first year of pro ball as a member of the Cincinnati Reds organization. After hitting .333 with an OPS north of 1.000 at UCLA in the spring, Matt followed that up with a strong pro debut over the summer where he batted .273 with an .811 OPS for the High-A Dayton Dragons. During his collegiate career, Matt saw action early on in center field and at third base – between UCLA and Dayton this year, he saw action exclusively at short stop.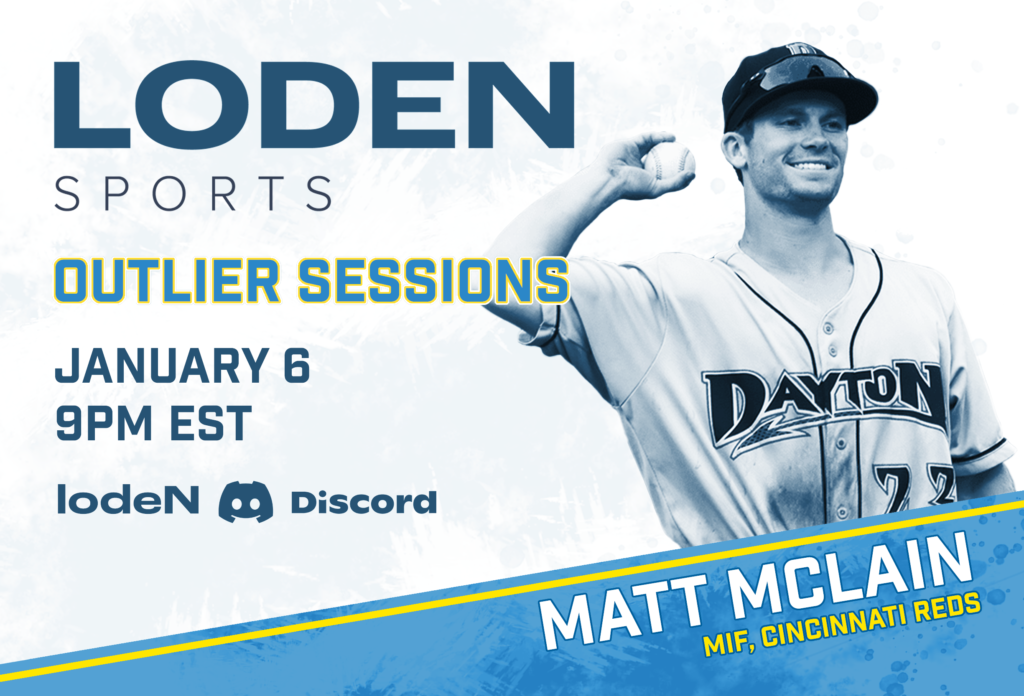 Originally from Orange County, California, Matt is the oldest of three brothers. His middle brother, Sean, is an outfielder at Arizona State and played with the USA Collegiate National Team this past summer. Matt's youngest brother, Nick, quickly filled the McLain quota at UCLA as soon as he left.
A rare, two-time first round pick, Matt was selected 25th overall in the 2018 MLB Draft by the Arizona Diamondbacks, opted for UCLA, and then was selected 17th overall in the 2021 MLB Draft by the Cincinnati Reds. We're looking forward to hearing more about the sibling rivalry, his jump straight to High-A, and how he fills his time in the offseason.
Twitter: @mattmclain_ // Instagram: @mattmclain_
What will the Loden Sports Outlier Sessions look like?
The Loden Sports Outlier Sessions will be slotted for a maximum of 2 hours. The first segment of the session will be a conversation about everything from the guest's journey, to culture and interests, to how they take their development in their own hands. The second segment will be a question-and-answer where we'll invite listeners to engage with our guests.
What to look forward to as an attendee:
Attendees will have a chance to ask our guests questions within the question-and-answer segment of the session.
Some of our guests have already committed to providing a giveaway item/s for attendees. Those who are present during the session will be eligible to win.
How will the winner of a giveaway item be chosen?
For each Outlier Session where there is a giveaway item/s, attendees will be asked to fill out a link that will be provided in the Discord during the session. All attendees who fill out the link will be eligible for random selection to win the giveaway item/s. Winners of any giveaway item/s will be notified within 24 hours of the conclusion of the Outlier Session.
How do I download Discord and participate in the session?
Follow this link: lodeN Discord
Create your account.
You're in, it's that easy.
You can use Discord from your laptop, tablet, and/or phone.
Some background on our Discord:
We're excited to announce our Discord community! We're working hard to bring some really cool experiences to you in the winter months ahead - stay tuned for more information to come ...

Get amongst it: https://t.co/oulPiRKsMk pic.twitter.com/fy9KTctaLH

— Loden Sports (@lodensports) October 18, 2021
The Loden Sports team is excited to bring you closer to the future of the game and those who impact it on and off the field. On behalf of ourselves and our guests, we look forward to spending some time with you all over the holiday season. See you soon!