It's August, we just got off the road from a couple of unique identification events in Utah and Georgia, and for those who are curious, we want to break down our talent identification use-case. What we are able to provide is just one piece of the puzzle, but it is an important, quantifiable piece that, up until now has been largely subjective for talent evaluators in all sports.
Simply put, it's our job to tell you who the best raw athletes are.

Out of 400+ athletes evaluated at the PBR Future Games, an event for uncommitted high school baseball players, only 4 registered a Loden 8 or higher.
Using our data-processing, we provide a Power, Quickness, Speed, and Loden (Overall) Score for all athletes who complete our evaluation. While our evaluation is non-sport-specific, these metrics have been tuned and are founded in meaningful connection to sport-specific performance outcomes.
Our Power Score translates to throwing hard, hitting hard, kicking hard, and so much more in competitive sports environments. Our Quickness Score can provide insight into optimal positioning. Our Speed Score translates to top-end running speed – an athletic skill present in almost all sports. And the combination of all three provides us with a Loden Score (overall score). Not every athlete can have exceptional Power, Quickness, and Speed Scores – there are tradeoffs. Some athletes have more of a Power-first profile, some athletes have more of a Speed-first profile, and some athletes are the rare combination of both.
How fluid are the Power, Quickness, Speed, and Loden Scores?
Athletes have the greatest opportunity to impact their Power, Quickness, Speed, and Loden Scores while their bodies are still growing. Once an athlete is physically mature, there are only marginal gains that can be made at that point. In regards to athletes with physical projection (the athlete that still has room to grow and add strength), it should be expected that these types of athletes have the MOST room to see significant jumps in their scores, specifically in Power.

Judging by height, weight, and what the eye can reasonably infer, the high school-aged athletes in the table above from the PBR Future Games are just a few of many present at the event with athletic-Power projection when they physically mature and add strength. While they may not be outliers now, they may not be far off. For the evaluator, it isn't always just the highest Loden Score that is most intriguing …
To the athletes or parents of athletes reading this, if your Power score is low and you are in high school (or younger), don't panic – there will be plenty of time to naturally add strength by creating good habits in strength and conditioning.
Why is athleticism important?
From our experience and observations, athleticism sets the ceiling for each athlete. We have found that the athletes with major impact tools (speed, power, arm strength) are typically the best athletes in the bunch. Consider our scores to be the fuel for the tools. In the information age that we live in, it is important to understand what feeds the outcomes that every aspiring athlete is chasing.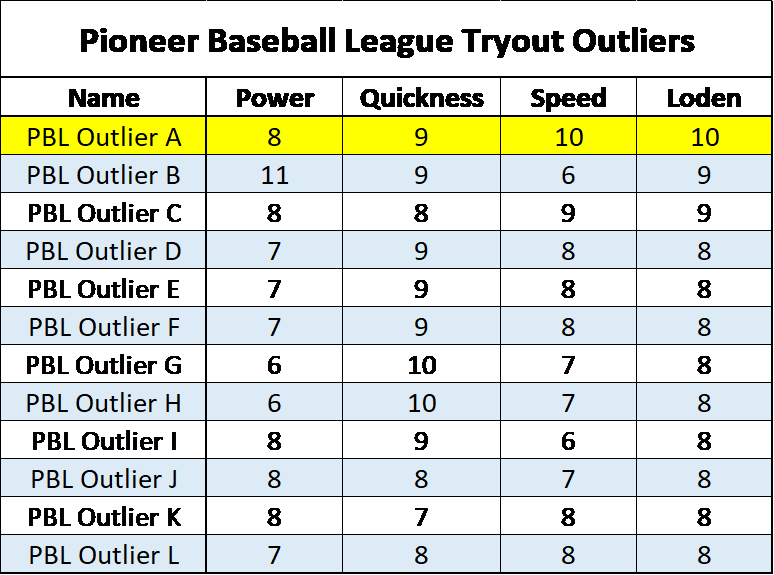 Out of 90+ athletes at the Pioneer Baseball League (PBL) tryout in Ogden, Utah, 12 registered a Loden Score of 8+. The 12 are listed in the table above. PBL Outlier A was the only Loden 10 at the tryout.
"[PBL Outlier A] was my favorite player there; he did everything easy." – Talent Evaluator at the PBL Tryout.
In our opinion, the best commitment an aspiring amateur athlete can make is to their body and becoming more powerful, quicker, and faster. 
In the past 2 months, we have supplemented a Major League Baseball club's pre-draft workout, a Pioneer Baseball League tryout, and the largest showcase for uncommitted amateur baseball players in the country in the Prep Baseball Report Future Games. In doing so, we have armed decision-makers with easy-to-understand, comparative data that they can trust in regards to the athletes they are evaluating.
We coordinate with our partners to identify exactly what they are looking for from our athletic evaluation and then we build out a time-efficient evaluation, execute on-site, and then provide our Power, Quickness, Speed, and Loden Scores on the same day for immediate impact.
Using our standard talent identification evaluation, we are able to evaluate as many as 20 athletes every 15 minutes during our most recent run of events.
We take the guess-work out of it. We tell our partners who the best athletes are, and they decide who can play or not. Again, we believe that athleticism is just one of many important pieces of the puzzle in talent identification – it isn't the end-all-be-all.
At the end of the day, the majority of professional athletes are average compared to every other professional in their sport; the majority of college athletes are average compared to every other college athlete in their sport; and the majority of high school athletes are average compared to every other high school athlete in their sport.
For some athletes, exceptional raw athleticism can be a separator and for the evaluators we work with, we're able to help take the guess-work out of it.